From HistoryChannel.com
:
1892 Lizzie Borden took an axe . . .

Andrew and Abby Borden, elderly residents of Fall River, Massachusetts, are found bludgeoned to death in their home. Lying in a pool of blood on the living room couch, Andrew's face had been nearly split in two. Abby was found upstairs with her head smashed to pieces.

The Bordens, who were considerably wealthy, lived with their two unmarried daughters, Emma and Lizzie. Since Lizzie was the only other person besides the housekeeper who was present when the bodies were found, suspicion soon fell upon her.
And the famous jingle was born:
Lizzie Borden took an axe,
And gave her mother forty whacks;
When she saw what she had done,
She gave her father forty-one.

Here's a picture of Lizzie: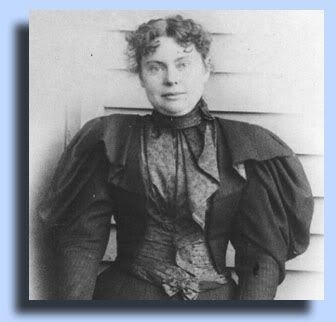 Lizzie's Mom. Click for bigger one:

Her dad. Click for bigger one: