From
historychannel.com:
DILLINGER GUNNED DOWN:




July 22, 1934



Outside Chicago's Biograph Theatre, notorious criminal John Dillinger--America's "Public Enemy No. 1"--is killed in a hail of bullets fired by federal agents.

[...]Anna Sage, a Romanian-born brothel madam in Chicago and friend of Dillinger's, agreed to cooperate with the FBI in exchange for leniency in an upcoming deportation hearing. She also hoped to cash in on the $10,000 bounty that had been put on his head.

[...]At 10:40 p.m., Dillinger came out. Sage's orange dress looked red under the Biograph's lights, which would earn her the nickname "the lady in red." Dillinger was ordered to surrender, but he took off running. He made it as far as an alley at the end of the block before he was gunned down, allegedly because he pulled a gun. Two bystanders were wounded in the gunfire. Public Enemy No. 1, as FBI Director J. Edgar Hoover had deemed him, was dead.
See the Dillinger gang mugshots
here
.
Read the FBI case
here
.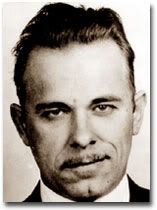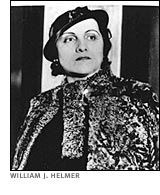 John Dillinger and Anna Sage